Today was a good day for prayer. It started off with the usual Saturday morning brunch date with Betsy. We went to a new place for us--
Ezra's Pound
. It's a coffee shop in our neighbourhood (on Dupont, next to the LCBO). Betsy strapped the
BabyBjörn
onto me--and then put Henry into it. I must admit, I've been slightly suspicious of the BabyBjörn, preferring the simplicity and closeness of the sling. But the nice thing about the BabyBjörn is that Henry can face outwards at the world. And these days he likes to see what's going on when he's awake. As we walked down the street I found that the BabyBjörn worked well. Comfortable for both father and son.
At Ezra's Pound I realized that I really like coffee shops and should spend more time at places like this. The coffee was excellent--far better than Starbucks. And I appreciated that all the food items were homemade. The strawberry jam was excellent, and so was the bread that came with it. The people that run that place choose to do a few things with excellence rather than fill the menu board with resold
Aramark
crap. I would recommend this place to any foodies out there! Looking around, I couldn't help thinking about what kind of ministry partnerships it might be possible to create.
After walking Henry and Betsy home, I went to the church for the usual Saturday block of services. I admit that I set up the Contemplative Eucharist feeling a little discouraged about it. I was thinking that I may need to cancel it if I don't start getting more people. I resolved to keep it going until Easter and then shut it down if I haven't attracted a regular congregation. Then I said some prayers that God might send me some new people to that service.
Wouldn't you know... two new people showed up! That made for four of us. I was pleased as punch. I know, some of my colleagues might scoff at a mere 2 new people. But for churches like mine that is precious fruit! We had a wonderful Eucharist and some interesting conversation afterwards. Sweet. The two new folks decided to stay for the Healing Prayer service, as well.
After that I did a session of pastoral counselling. We both decided we needed a little break from the depth work we've been doing, so we spent most of the session reading Psalm 119 together. I noticed as I was reading the odd number verses that each verse seemed to carry a lot of meaning for me. Sometimes the Psalms just
resonate
, you know? I found myself wishing that I was chanting them rather than just reading them. I thought about times that I've read through the entire psalter in one sitting as a devotional exercise. The last time was probably the all-night vigil I kept before my ordination. I should do that again, sometime.
After the Psalm we prayed together, and I found that it was easy today to be very present to the spirit of prayer. I'm often called on to pray for people and the degree to which I am "into it" can vary depending on many things. But today I was right into it. Saying the psalm and having the Contemplative Eucharist earlier in the day probably helped.
Prayer is mysterious like that. Sometimes it can come so easily and with such power and beauty. Other times it can seem dry. Today someone told me about how
Thomas Keating
said that scripture sometimes tastes "like straw." I knew what he meant immediately. It's like when a monk says he goes to the Offices "because the bell rings." There is an emptiness there in the discipline of spiritual practice which one encounters in the spiritually-engaged life. It's a good thing. It's the novice that prays or reads scripture because it is rewarding or edifying. It takes a real friend of God to show up when it ain't so fun!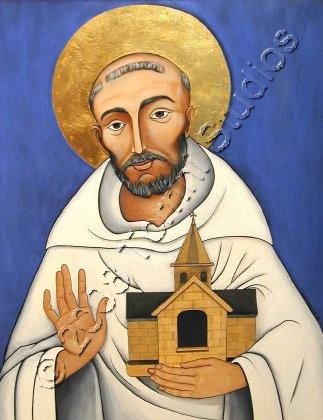 Me, I'm happy to survive on occasional "consolations of the spirit" like today. I can survive just fine on the "memory of Divine Favour" (as
St. Bernard puts it
). Other people have a different spiritual temperament, naturally, I'm just speaking for myself.
This reminds me of my absolute favourite story from the
Desert Fathers and Mothers
:
Abba Lot went to see Abba Joseph and he said to him, "Abba, as far as I can, I say my little office, I fast a little, I pray and meditate, I live in peace and as far as I can I purify my thoughts. What else can I do?" Then the old man stood up and stretched his hands toward heaven; his fingers became like ten lamps of fire and he said to him, "If you will, you can become all flame."
Thinking on these things makes me miss Mary Gates. She was my therapist back in Connecticut. She was also a priest and had been a student of Thomas Keating once upon a time. Mary would sit on her rocking chair. I would lie down on the couch and stare out into her big garden through the plate glass window. Mary is a wise woman.
I think Mary would shrug if I told her about this. "What did you expect prayer to be like?" she might quip. Just so.
-t